One of my favorite episodes of Seinfeld is when Kramer made a coffee table book with photos of coffee tables (plus little legs to make it look like a coffee table). Coffee tables can be so boring, but they are also an awesome place to display some creativity. I think both the boring and creative coffee tables have their places, and it's easy to jazz a table up with some accessories. My table is too small for my living room.
I've had it since college. It used to be a computer desk, but we just sawed off the legs to make it a coffee table. I needed a coffee table, but I didn't need a computer desk.
I'm ready for something different. I've always loved this image from Pottery Barn.
It's just a stack of books. My fear is that there would be a lot of dust and that it would get knocked over, so I doubt I go with this option.
I saw this one on Design Milk a while back.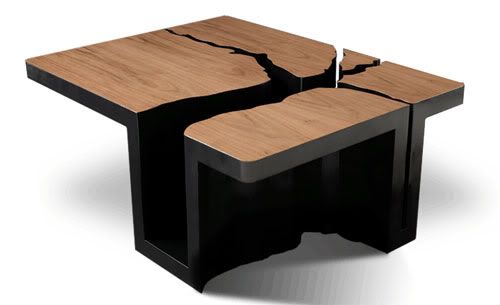 I think it is so artfully designed.
I've also always liked round coffee tables.
I'm also intrigued by coffee tables made of industrial carts.
This one is a re-make from Pottery Barn.
And this is Restoration Hardware's take on it.
So many options for such an indecisive girl! Okay, internet, which way should I go? Do you have more inspiration for me?
-Jenny